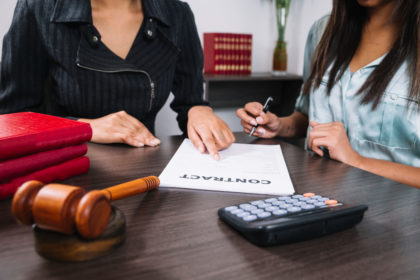 Article written by Denis Pokani Mitole, Candidate Attorney, checked and released by Charlotte Clark, Senior Associate at Schindlers Attorneys
25 September 2021
Judgment Delivered on 16 Sept 2021
The background

The judgment concerned two separate applications before the High Court of South Africa sitting in Free State (the "Court"). Two matters were heard simultaneously, challenging the Constitutionality of section 24(2)(b) read with section 115 of the Legal Practice Act 28 of 2014 ("LPA"). The ("Applicants"), Relebohile Rafoneke and Sefoboko Tsuinyane, both Lesotho citizens who read for their LLB, completed articles and law school, and had successfully sat for their admission exams in South Africa ("ZA"), could not be admitted due to the above-stated provisions. The ("Respondents") were the Minister of Justice and Correctional Services, Legal Practice Council ("LPC"), and the Ministers of Trade, Labour and Home Affairs, in that order. Free State Association of Advocates was an Amicus Curia.
The provisions of section 24(2)(b) state that to practice and be admitted by the High Court as a legal practitioner (attorney, advocate, conveyancer, or notary), that person must inter alia be a 'South African citizen' or a 'permanent resident' of the Republic, and section 115 of the same Act stipulates that:
"Any person who, immediately before the date referred to in section 120(4) i.e., 1 November 2018, was entitled to be admitted and enrolled as an advocate, attorney, conveyancer, or notary is, after the date, entitled to be admitted and enrolled as such in terms of this Act."
The Applicants argued that the impugned provisions violated section 9 of the Constitution of 1996 – the equality clause – in that it differentiated unfairly between citizens and permanent residence, and foreigners on the other hand. They argued further that there existed no rational connection between the differentiation and a legitimate government purpose, and that even if a relationship existed it would be found to be unfair discrimination. The Applicants further submitted that it was easier for a foreigner who was admitted in a designated foreign country to enroll to practice in ZA without meeting the section 24(2)(b) requirements, than a foreigner who studied in the Republic who is neither a citizen nor a permanent resident.
Ministers of Justice, Labour, and Home Affairs, together with the Free State Association of Advocates (as Amicus Curiae) argued that the provisions served a rational and legitimate purpose and that the Application should not be granted as that would circumvent the employment and immigration laws of the country. The position of the LPC remained unclear in the presentations.
The departments argued, albeit that the court found their arguments outdated, that the legitimate government purpose was to protect ZA citizens or permanent residents from failure in securing articles of clerkship, which are not easy to secure, when foreigners would have secured the placements, also because of the country producing many law graduates every year. Another argument that was advanced by the departments was the rationale of protecting clients from the risk of admitting foreigners who could embezzle funds and flee the country, which argument the court found as weak, as citizens were also known to embezzle trust funds.
The Court, after going through the Equality analysis, looked at the LPA's objectives which included transforming the legal profession while upholding the law and broadening access to justice by ensuring equal opportunities to all, reflecting South Africa's demography – foreigners excluded. This, it held, was a legitimate government purpose that met the rationality test. The restrictive admission to citizens and permanent residents was also found by the Court to be in line with labor and employment laws of South Africa, which requires an extensive search of local talent before recruiting a foreigner, and for foreigners to be recruited if they were holders of special skills1. Law is not one of these special skills. Employing foreigners who qualified in ZA without a permanent residence, on a work permit, or special skills visas would thus defeat these legitimate purposes.
The Court held

That the admission of foreign admitted legal practitioners results from arrangements, agreements, and reciprocal relations commonplace between nations. This differentiation between non-citizens who studied locally without a permanent residence, and foreign admitted legal practitioners was also held by the court to serve a rational and legitimate government purpose.
Held that there was nothing wrong with allowing foreigners who were not permanent residents, who have fulfilled all requirements through studies and training in ZA to be admitted as non-practicing legal practitioners. Opportunities available to them, it held, including being able to work in their own countries for multinationals doing business in ZA or work as advisors for non-governmental or other organisations within ZA. Others would benefit from such admission while awaiting their permanent residence permit, subjecting to meeting all other employment and immigration laws. Lastly, it would serve a legitimate reason to admit, as non-practicing legal practitioners, non-citizens who, in anticipation of working here, study and fulfill all other requirements to practice, barring the permanent residence requirement. Lastly, it would serve the LPA objective of removing unnecessary artificial barriers for entry into the legal profession. The foreign workforce was found not to be contributing to the unemployment of ZA graduates pegged at only 2.4% of 7,8 million people.
Also held that while s24(2)(b) of the LPA was fair, s24(2) was unfair for not admitting non-citizens who do not hold permanent residence as non-practicing legal practitioners, and thus declared it invalid and suspended the invalidity to allow two years for the legislature to cure the anomaly.

Value

The decision confirms the rationale and government purposes for the differentiation between citizens and non-citizens who are not permanent residents of the republic when enrolling and admitting attorneys, advocates, conveyancers and notaries as legal practitioners. The court finds the differentiation to be serving a rational and legitimate government purpose. The court orders that non-citizens who are not permanent residents be admitted as non-practicing legal practitioners upon qualifying.
[1] Except at master's degree level and above.