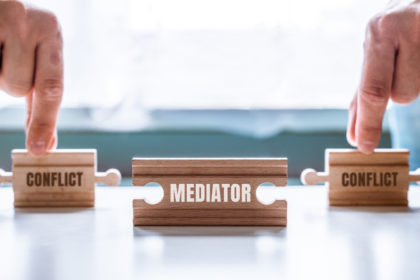 By Chantelle Gladwin-Wood, Partner and Nicole Rens, Candidate Attorney
Introduction
This article explains what mediation is, and how mediation in terms of Uniform Court Rule 41A ("Rule 41A") is envisaged to work.
What is mediation?
It is:
a voluntary process
entered into by agreement between the parties to a dispute,
in which an impartial and independent person, the mediator,
assists the parties to either resolve the dispute between them,
or identify issues upon which agreement can be reached,
or explore areas of compromise, or generate options to resolve the dispute, or clarify priorities,
by facilitating discussions between the parties and assisting them in their negotiations to resolve the dispute.
Who can refer a matter to mediation?
Any person/entity who has a dispute/disagreement with another person/entity may refer that dispute (or a series of different disputes, if they are related to the same set of facts) to mediation.
When can a matter be referred to mediation?
It can happen at any time before a final judgment is handed down in a matter by any dispute resolution forum. It can take place before a dispute has even been referred to another dispute resolution forum, like the Rental Housing Tribunal, Community Schemes Ombud, arbitration proceedings, or even court. Alternatively, it can take place once the referral to that forum has happened, but only if the parties and adjudicator agree that the matter/s in the dispute resolution forum be "pended" whilst the mediation is ongoing.
What happens if the mediation proceedings are successful?
Most commonly, the mediator arranges for the agreement reached by the parties to be reduced to writing and signed. Normally, the settlement agreement will have clauses in it that regulate what the obligations of the parties to the agreement are, by when such 2
obligations are due, and the consequences of non-compliance with those obligations.
What happens if someone doesn't comply with the signed settlement agreement?
This depends on what the settlement agreement provides for in the event of non-compliance. Typically, in relation to settlement agreements governing a debtor-creditor relationship, a debtor would agree that the settlement agreement can be made an order of court if there is non-compliance, which would allow the creditor to easily obtain a court judgment against the debtor and thereafter (if the obligations of the debtor remain unmet) execute against the property of the debtor, through the sheriff, to compel payment.
What happens if mediation fails?
The creditor, or other party if the dispute does not pertain to a creditor-debtor relationship, will normally take the matter to a dispute resolution forum for judgment or, if the matter was already before such a forum and it was pended whilst mediation was ongoing, the matter will simply proceed in that forum.
Can what I say be used against me?
Ordinarily, mediation is confidential and without prejudice, meaning that whatever the parties to mediation say during the proceedings cannot be used against them at a later time in another forum. In order to keep mediation confidential, it must be agreed by the parties, and a mediation confidentiality agreement can be signed. However, when a settlement agreement is reached, this document is not confidential nor without prejudice and the obligations contained therein can be enforced. There is, however, an option for the parties to make the settlement agreement confidential, if both parties agree to this.
Do I need a lawyer?
Ordinarily, parties are not represented by a lawyer at mediation proceedings. However, the parties may agree that their lawyers be present.
What are the costs?
The costs vary from one mediation forum to the next. Mediation at the Rental Housing Tribunal is a completely free service, but it only applies to rental housing related disputes. The same applies to mediation at the Community Schemes Ombud – but this is only available for disputes pertaining to community schemes. "Private mediation" at a forum like AFSA (Arbitration Foundation of South Africa) can cost from R15,000 upwards, but it is done by accredited and experienced mediators who charge a fee. There are many other mediation services out there – you only need to Google to see the range of experts, services and prices avialable. Ordinarily, the parties agree to both share the costs of mediation equally, which provides incentive for both parties to participate and find an outcome to the dispute.
Why would I choose mediation over any other form of dispute resolution?
Mediation is less formal, more "friendly", and you don't usually need a lawyer, so it is normally much less intimidating than other forms of 3
dispute resolution, such as arbitration hearings or Small Claims Court. It can cost less than other forms of dispute resolution, especially where offered by a free forum like the Rental Housing Tribunal. If you succeed at mediation, the relationship between the parties (often) remains intact and is not entirely destroyed, which is often the result of other forms of dispute resolution or litigation. The process is flexible and determined by the needs of the parties, and it is often less technical than other forms of dispute resolution.
Conclusion
Although the risk remains that the parties might not reach settlement through mediation, there is no harm done if they don't – as the parties are free to continue with any other more formal dispute resolution process thereafter, without anything that they have said during the mediation process being "held against them" (should a mediation confidentiality agreement be signed by all parties). It is always a good idea to first attempt mediation in matters where it appears that there is scope to resolve them in such a manner, rather than incurring legal fees in other dispute resolution forums.
Should you require further assistance visit our website at www.schindlers.co.za or contact our Schindlers Adjudication Team with contact details below.
Please note: this article is for general public information and use. It is not to be considered or construed as legal advice. Each matter must be dealt with on a case by case basis and you should consult an attorney before taking any action contemplated herein.